Dandelions belong to the big sunflower family Asteraceae (formerly Compositae), along with over 10% of the world's flowers. Blossoms are organized into an involucrate pseudanthium in the form of a head (or capitulum). This immediately recognizable characteristic-even from a distance-makes dandelions and their relatives the easiest, and possibly largest, family of flowering plants to identify.
The successful floral configuration surprises almost everyone; indeed, a dandelion is not simply one flower, but perhaps a hundred. Each flower makes a dry-seeded fruit (an achene)  attached to a downy parachute, forming the fluffy white puffball every child likes to blow away into the wind (and then make a wish).
Composite blooms are mostly two types of flowers: ray flowers (outer "petals", as pulled off a daisy, "…loves me, loves me not…") and disc flowers (inner center, like the "eye" in Black-Eyed Susans). This exclusive asteraceous inflorescence likely ensures being the best-represented plants in any chosen backyard.
Dandelion relatives include herbs, shrubs, and some trees, food and ornamental plants such as:
ARTICHOKE
ASTER
CHAMOMILE
CHICKORY
CHRYSANTHEMUM
DAHLIA
ENDIVE
LETTUCE
MARIGOLD
SAGEBRUSH
STEVIA
THISTLE
YARROW
ZINNIA
With Kevin's Low's kind permission, we will show you here his photographs of a dandelion relative (white ray flowers as "petals" surrounding yellow disc flowers clumped in a central cluster) that is "growing wild all over the place" in Malaysia: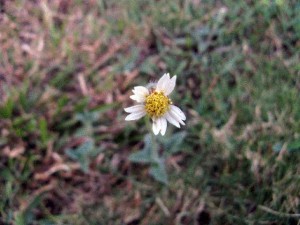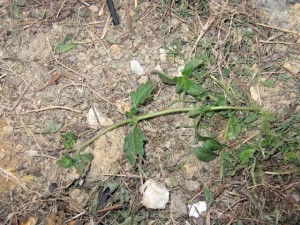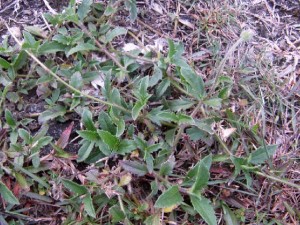 We look forward to learning the name of this plant and if it is edible/medicinal, perhaps like chamomile tea… If you know, please write us your comments! Thanks! We look forward to hearing from you!
One Response
SM Chai Says:
September 8th, 2012 at 10:50 am

Does the Dandelion Relative that is growing wild all over Malaysia have the medicinal properties as The Dandelion?
Regards
Leave a Comment